Not on My Menu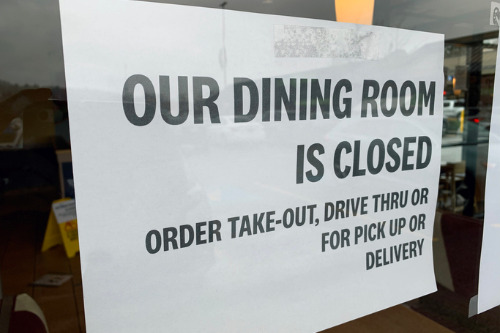 I miss restaurants. I miss bars. I miss being spoiled by terrific servers and amazing chefs. I miss watching other people's food arrive and having FOMO. I miss bantering with the servers, and wondering if they roll their eyes when they walk away or if they appreciate my wit and charm.
But.
I will wait to go to a restaurant until our Governor says it's safe for me, the other patrons, and the people who work in them.
I dread opening my browser in the morning to see which wonderful eateries have shuttered their doors forever. My heart breaks when I see a restauranteur lament their life work's demise. I fear for those servers who are no longer able to pay their bills.
But.
I will buy gift cards. I will order takeout directly from the restraunts, and avoid delievry services that take precious moey fron those who need it most. I will overtip.
I will not patronize restaurants who open in defiance of the Governor's orders. As reported by Stephanie March of MSP Mag this week, 130 small businesses are discussing doing just that this week. I can only imagine the desperate fear those business owners are feeling. However, I don't think it is right that they open prematurely.
I do think the government needs to do more to help them, on the local, state and federal levels. Make banks waive mortgage payments for three months (just tack the 3 months onto the end of the loans), so landlords can waive rent. Get some subsidies in there for servers, suppliers, etc. I think it's pretty clear that if they reopen illegally, they will forfeit any relief. They may also make it worse overall for those in their community who will respectfully suffer through the restrictions.
March's article quotes the organizer of the coalition as saying if people don't feel safe, they don't need to go to the restaurants. True, and fair. Servers do not have that luxury. If a restaurant reopens, they will put themselves at risk to do their jobs. These people do not typically have financial cushions (or if they did, they are long gone). Minimum wage workers do not have the luxury of staying home.
So it is with great sorrow and conflict that I say will not patronize any business opening illegally. I won't get takeout from there, either. And I may find it really tough to ethically support them next summer when we may be back to a semblance of normal.
I hope we Minnesotans followed the rules enough during this last shutdown to allow Governor Walz to authorize a limited reopening next week. If so, yes: we will go out again. If not, we will be sad, but do our part.
Please, my favorite restaurants, and all those places that haven't become my favorites yet, don't risk everyone's health by opening prematurely in desperation.