Blog Archives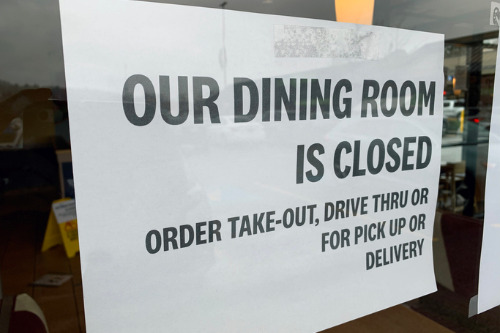 I miss restaurants. I miss bars. I miss being spoiled by terrific servers and amazing chefs. I miss watching other people's food arrive and having FOMO. I miss bantering with the servers, and wondering if they roll their eyes when they walk away or if they appreciate my wit and charm.
But.
I will wait to go to a restaurant until our Governor says it's safe for me, the other patrons, and the people who work in them.
I dread opening my browser in the morning to see which wonderful eateries have shuttered their doors forever. My heart breaks when I see a restauranteur lament their life work's demise. I fear for those servers who are no longer able to pay their bills.
But.
I will buy gift cards. I will order takeout directly from the restraunts, and avoid delievry services that take precious moey fron those who need it most. I will overtip.
I will not patronize restaurants who open in defiance of the Governor's orders. As reported by Stephanie March of MSP Mag this week, 130 small businesses are discussing doing just that this week. I can only imagine the desperate fear those business owners are feeling. However, I don't think it is right that they open prematurely.
I do think the government needs to do more to help them, on the local, state and federal levels. Make banks waive mortgage payments for three months (just tack the 3 months onto the end of the loans), so landlords can waive rent. Get some subsidies in there for servers, suppliers, etc. I think it's pretty clear that if they reopen illegally, they will forfeit any relief. They may also make it worse overall for those in their community who will respectfully suffer through the restrictions.
March's article quotes the organizer of the coalition as saying if people don't feel safe, they don't need to go to the restaurants. True, and fair. Servers do not have that luxury. If a restaurant reopens, they will put themselves at risk to do their jobs. These people do not typically have financial cushions (or if they did, they are long gone). Minimum wage workers do not have the luxury of staying home.
So it is with great sorrow and conflict that I say will not patronize any business opening illegally. I won't get takeout from there, either. And I may find it really tough to ethically support them next summer when we may be back to a semblance of normal.
I hope we Minnesotans followed the rules enough during this last shutdown to allow Governor Walz to authorize a limited reopening next week. If so, yes: we will go out again. If not, we will be sad, but do our part.
Please, my favorite restaurants, and all those places that haven't become my favorites yet, don't risk everyone's health by opening prematurely in desperation.
Singer Girl just released her next song!
It's a bluesy, jazzy song — I wanna have a cocktail and listen to this in front of the fire. But I haven't had breakfast yet, so that wouldn't be proper.
Her music is on all platforms, so please download on whichever you prefer, and liste away. Love it like I do? SHARE! FOLLOW!
2020 is full of bad things. Can't we have a good thing????
Help my girl get her voice heard!
Here's her Facebook page: https://www.facebook.com/frankietorress
Tiktok: https://www.tiktok.com/@frankienstein3?lang=en
That is all. Carry on…
…gin and tonic in your hand.
(P.S.: if you missed her last one, here it is!
When Singer Girl went back to school in August, we realized it was time to kick date nights back into gear. It's harder now, in some ways, to find wild, new, interesting things to do. I mean, the world is kinda shut down, so options are fewer. That just means we have to dig a little deeper. But hey: every little outing feels like a gala ball when you are starved for social interaction!
In September we tried several new places, while still finding time to visit a few treasured faves. The first weekend of the month we were in Madeline, and I covered that last post. The next week we had two date nights, one picked by me, the other by him.
First up: my turn! On Thursday night we did a double appointment with my acupuncturist, Kate at Peak Life Clinic. Ironically, HWSNBN is the one who got me started with the needle life, but he'd never been himself. So our date nights worked well to get him there (remember the rules: one person plans, and the other has no say!). Afterwards we visited Cast and Cru restaurant, where we haven't been in far too long. It's weird seeing the Old Log Theater quiet. We also realized that this winter Cast and Cru probably won't open up the little cabin bar we enjoyed squeezing into last year. But a well-poured cocktail from the C & C bartenders does help dull that pain!
For our anniversary, HWSNBN took the lead. He has always liked basing gifts and celebrations on the "traditional" gift guides for anniversaries. The gift for 26 years is evidently photography, so we wandered around some lovely galleries in Minneapolis looking for a lovely piece of art to put on our sadly barren walls. Some of the places we enjoyed included the Groveland Gallery and Galeria do Beija Flor.
One of the best parts about exploring the world on foot is getting lost and finding treasures. One such place was the amazing Brickmania.
We caught sight of the amazing Lego reconstructions of the USS Missouri. Cannot wait to bring Sailor Boy here some day. He will geek out, just like we did.
One of our favorite crazy places to shop is Architectural Antiques. I mean, from door knobs to church pews, bowling alleys to antique crystal chandeliers, they've got it. We have bought many special things here over the years — like our copper front door, and the stained glass double doors on HWSNBN's office. We didn't buy anything today, but oh, man, did I want to!
We also enjoyed a jaunt around the Minneapolis Sculpture Garden.
Afterwards it was dinner at PS Steak, then we stayed the night at the cooler-than-us Hewing Hotel.
The next weekend I had a puppy party for work so we borrowed a couple of puppies to be our arm candy at Excelsior Brewing Company, our fave neighborhood beer joint.
The next day we double dated with our friends Matt and Kristy, and hit a few breweries and wineries out west.
The next weekend, the last in September, our weekend was a little busy so we couldn't do much just the two of us. But we managed to squeeze in a PHENOMENAL meal at Vann Restaurant, a place we'd never yet tried.
That food was simply elegant and delightful!
As I write this we've already done a few fun October date nights, but TBH it's gonna get harder with the double whammy of COVID-19 and a Minnesota winter. But we'll prevail!
Oh: and stay tuned for a super exciting post in a day or so!!!